2018 Annual Awards Banquet Highlights
The Connecticut Swimming (CSI) 2018 Annual Awards Banquet was held Sunday, November 4, 2018, at the Aqua Turf Club in Plantsville, CT. For this event Connecticut Swimming comes together to celebrate the athletes, coaches, and volunteers whose exceptional accomplishments have stood out over the 2017-2018 season. This year's emcee and guest speaker was Josh Davis, two-time Olympian and winner of 3 Olympic gold medals and 2 silver medals. Josh energetically spoke of his swim journey, his strategies for success and why it's great to be a swimmer. He motivated the room with his humor and booming voice. Coaches and swimmers left the banquet encouraged to work hard and be the best they can be.
Generously Josh shared his Olympic gold medals with the athletes: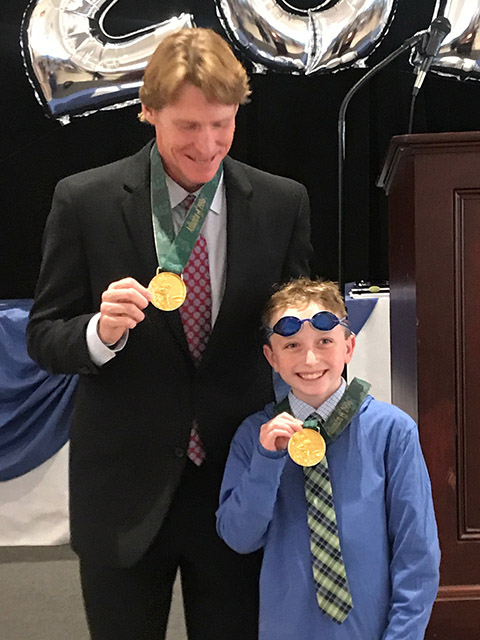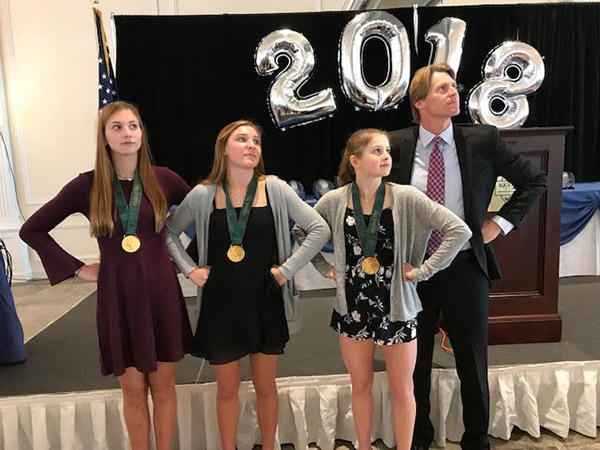 USA Swimming Phillips 66 Outstanding Service Award: The Outstanding Service Award was established in 1981 to recognize volunteers for their contributions to USA Swimming on the local level. The award, sponsored by ConocoPhillips, is presented annually to an honoree named by each of the 59 Local Swimming Committees (LSC). Selected by the CSI Board of Directors, this year's award was presented to Jen Lyman and Suzannah Rogers.
Coach of the Year: CSI coaches honor their peers with the Coach of the Year Age Group and Senior awards. Coaches are nominated and elected by coaches at the conclusion of the long course season. This year's honorees are Dave Reilly, WAC, Senior Coach of the Year; and Jeremy Cochran, GYWD, Bill Krumm Age Group Coach of the Year.
David Snow presenting the inaugural Judy Snow Student Athlete Service Award to Katelin Isakoff.

Swimmer of the Year: Kieran Smith, RAC, and
Matthew Torres, WRAT, were awarded Swimmer
of the Year by the Senior Committee. For the
2017-2018 season Kieran was the highest ranked
CSI member of USA Swimming and Matthew was the
highest-ranked CSI member of Paralympic Swimming.

Judy Snow Student Athlete Service Award: Judy Snow
was a lifelong Connecticut Swimming volunteer. She gave
selflessly to all the members of Connecticut Swimming,
never asking for anything in return. To honor her memory,
the Judy Snow Student Athlete Service Award was
established in 2018 to recognize an athlete in our
swimming community who emulates qualities of leadership,
academics, and volunteerism. This year's inaugural
winner is Katelin Isakoff.

USA Swimming Top 10 #1 Rankings: Each competitive
season, USA Swimming ranks the Top 10 athletes across
all 59 Local Swim Committees (LSC). Times from USA
Swimming sanctioned, approved, or observed competition
are eligible for consideration and athletes are ranked by
single age group 11, 12, 13, 14, 15, 16, or 17. For the
2017-2018 season 3 CSI swimmers were ranked #1 by USA
Swimming. Congratulations to: Jack Haley, NCY, 11 year
old 200M Freestyle; Tyler Sicignano, CPAC, 14 year old
200Y Butterfly; and Kieran Smith, RAC, 17 year old 400Y
IM. All CSI athletes ranked in the USA Swimming's National
Top 10 are listed here.
Other recognized achievements are listed below.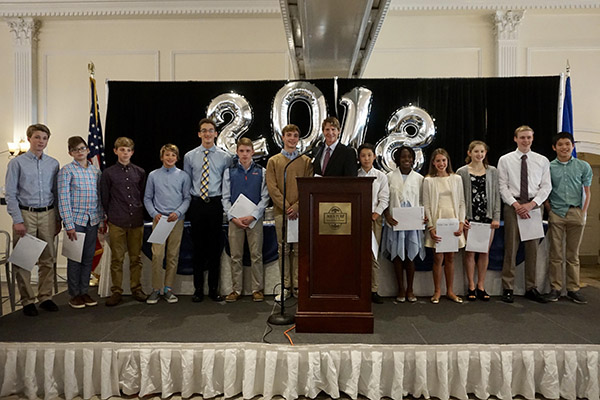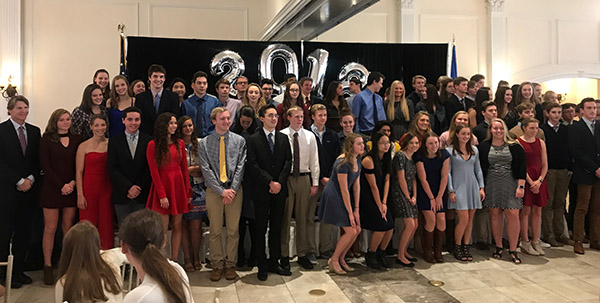 Special thanks and gratitude to Ellen Johnston, General Chair, and Banquet Coordinators Todd Gordon, Joan Lynch, Duffy Mudry, and Kaeley Steinnagel.